08:45 Tuesday - Unfortunately due to extremely dangerous access routes to school (despite having the gritters in) the decision has been taken to close school again today. We expect to be open tomorrow as a thaw is due today. Sincere apologies!
Autumn Term at
Livingstone Primary School!
We are looking forward to all of our Christmas celebrations over the next couple of weeks! Check the diary below for details.
A message from the Headteacher:
Dear Parents,
I am delighted on behalf of the staff, Governors and children to welcome you to Livingstone. We are a friendly and caring school and we work hard to secure good relationships with everyone in our community.
Every child is unique. We have high expectations of our pupils and will support each individual to realise their potential. We respect and value each child and family. When your child becomes a pupil at Livingstone then you become a member of the Livingstone family.
With your help, we will provide opportunities for your child to develop a full range of intellectual, social, physical and emotional abilities in a secure and stimulating environment. Our curriculum is broad and challenging with a strong focus on the basic skills of literacy, oracy and numeracy. We expect and achieve high standards of behaviour based on mutual respect. We have a dedicated and experienced staff who are always ready to help you and your child.
We have some remarkable young people at Livingstone - your children! I look forward to joining you on your child's learning journey.
Welcome to Livingstone!
Yours sincerely
Mrs Linda Crombie
Headteacher
Well done to the 'Golden Award Winners' from Years 1,3 and 5 this month, who received prizes in assembly for hard work and exemplary behaviour.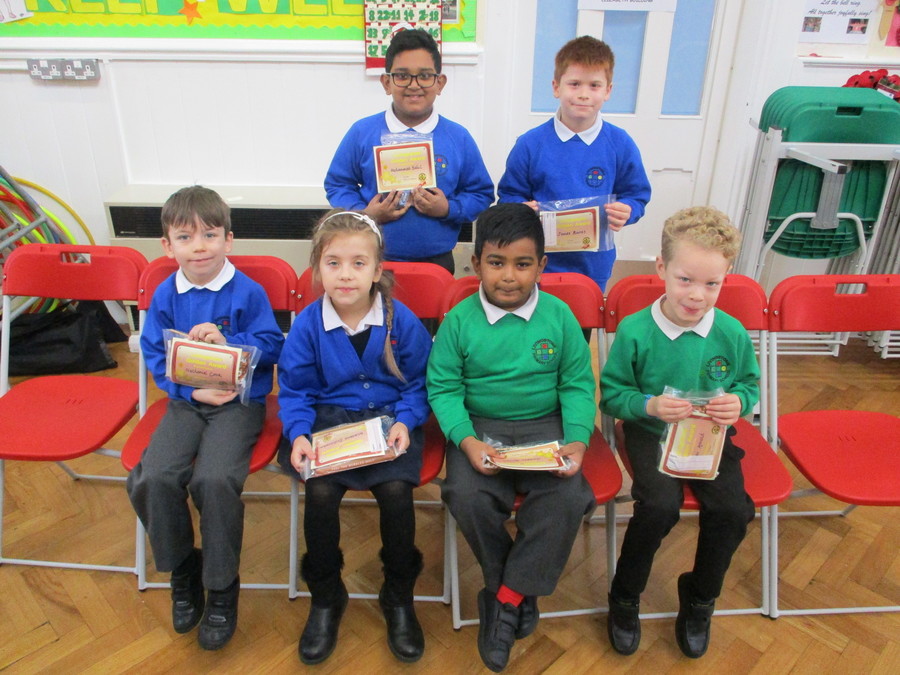 Dates for your diary!
DECEMBER
8/12/17 Magic Show @ 4pm
11/12/17 Super Singers to Tavistock Court (pm)
13/12/17 Lower Key Stage 2 (Years 3 and 4) Christmas Performance @ 2.15pm
14/12/17 Lower Key Stage 2 (Years 3 and 4) Christmas Performance @9.15am
15/12/17 Christmas Lunch
18/12/17 Upper Key Stage 2 (Years 5 and 6) Christingle Service
20/12/17 Christmas Holidays Begin
January
2/1/18 Teacher Training Day
3/1/18 Back to School. Spring Term begins.
Christmas has arrived at Livingstone!

We had a very successful Christmas fayre on Wednesday 6th December. Each class had a stall selling lots of lovely treats as well as Santa's Grotto. We took over £700 with more still to come in! Thank you for your support.
DON'T FORGET RAFFLE TICKETS ARE
STILL AVAILABLE FROM THE OFFICE
The children in Early Years and Key Stage 1 had a great time performing their Christmas show - Christmas Recipe. The children all worked really hard to learn the songs and performed brilliantly!
Children in Need!
On Friday 17th November we had a 'Spotacular' day raising money for Children in Need. We all dressed in our spottiest outfits for mufti and each class participated in their own fundraising activities as well. These included face painting, biscuit sale and parties!
Pie face challenge!
At the beginning of the week the challenge was set; whichever class raised the most money over the week would be able to cream pie their teacher! All of the classes did brilliantly raising lots of money but the winning class, who raised nearly £70(!), was Owls! This meant the children got to cream pie Mr Wilson and Mrs Rudd; who were extremely good sports!
Livingstone Primary School raised an amazing total of over £500 for Children in Need, so well done all of you!
There are lots of videos and information about Children and Need and who our money will help on the Official Children in Need Youtube channel https://www.youtube.com/user/BBCCiN